Head Coach Kevin Waters
---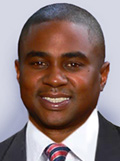 Jacksonville Giants Head Coach Kevin Waters was born in Bedford, VA, and grew up in Charlotte, NC, and Atlanta where he was a multi-dimensional athlete. "I wanted to be a football player," he says, but his skill in basketball took him to the next level. At Virginia Western Community College he led his team to a state championship and was named Offensive Player of the Year. The next year he went to Fisk University to become a three-year-letterman, leading the team in assists from 1993-'96. Waters' deadly jumper led the semi-pro Charlotte Royals in 3-point shots during their '96-'97 season, and afterward he became involved in the development of basketball teams.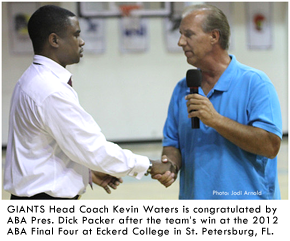 Over the years Coach Waters has helped to build winning teams at Kennesaw State and Murray State Universities. He has also been involved with several ABA teams and his own WBA Jacksonville Blue Waves which was poised to play a second season before he was approached by team owner Ron Sholes to join a not-yet-named ABA franchise.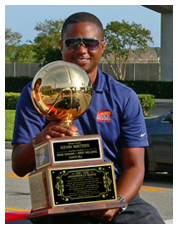 Waters' leadership and coaching experience with the Jacksonville Giants were key in molding the future ABA Champions through their first regular season with an amazing 23-0 record and a trip to the ABA Final Four in Texas. The 2011-2012 season saw his efforts culminate in a second trip to the ABA Final Four and the 2012 ABA National Championship. Capping off a fantastic season, Coach Waters was named 2011-12 ABA Coach of the Year.
In the team's third season, Coach Waters' accomplishments included leading the GIANTS to consecutive ABA championships, being named Head Coach for the ABA East, in which the team scored the most points in ABA All-Star history, and being named ABA Coach of the Year for the second consecutive year. ABA Commissioner Joe Newman acknowledged, "Kevin is one of the best young coaches in professional basketball."
Now, with many new players joining the team for Season 4, the soft-spoken coach faces the challenge of defending the Giants ABA title again for a possible championship "3-peat" and maintaining the level of quality sports that Jacksonville Giants fans have come to expect.
Assistant Coach Dave Graham
---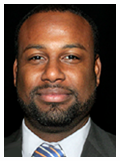 "Coach Graham is all about hard work. He's a very energetic young coach," says Giants Head Coach Kevin Waters of his second-in-command. Born Dec. 1, 1980 at a U. S. base in Heidelburg, Germany, the former "Army brat" knows how to hit the ground running. "My dad was in the Army so we moved around a lot," Dave recalls. And as they changed locations, Graham says one thing was constant for him: Basketball. Eventually his family returned to the U. S. for duty near Columbus, GA. As the transfer from middle school to high school came about, so did another transition. Graham's dad retired from active duty in the Jacksonville area and placed Dave in Middleburg High School.
Graham's next step became his first tie to the Jacksonville Giants. He played basketball at Edward Waters College under an up-and-coming young Assisant Coach named Kevin Waters. Graham says he learned a lot from Waters and looked up to him. "He's like a big brother to me," smiles Dave.
Graham's team at EWC went on to the national tournament twice between 2000 and 2001. After his college playing days were over, Graham worked with the YMCA for several years then followed in Water' coaching footsteps. Dave went on to coach at Ridgeview High School in Orange Park, FL, Edward Waters College, and that at Hiwassee College of Tennessee to their first ever national tournament berth at the USCAA. When Coach Waters decided to join the future ABA Jacksonville Giants, he didn't have too far for a qualified assistant coach. Dave Graham jumped at the opportunity to work with his friend in building a new team from the ground up.

Graham and his wife, Erica, reside in Jacksonville. A graduate of Ridgeview High School in Orange Park, Mrs. Graham received her Bachelors Degree in Biology from Florida A & M University. She currently works as an analyst at an environmental testing lab. Erica is also co-owner of ESSqueProductions.com, an event and planning company.