GIANTS serving the Community
JACKSONVILLE GIANTS RECEIVE FLORIDA DEPARTMENT OF EDUCATION'S OUTSTANDING PARTNERSHIP AWARD
At the Duval County School Board Meeting on April 5, 2011, the Jacksonville Giants were awarded the Commissionerís Business Recognition Award. This award highlights the most outstanding business partnerships in each school district. Ony two other companies received such a distinction this school year.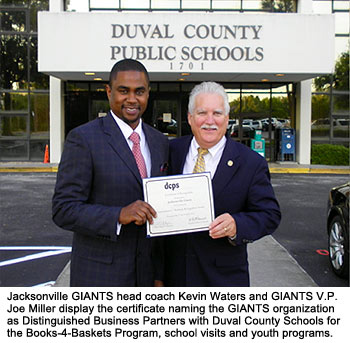 In his letter to the teams' owner, Ron Sholes, and Head Coach Kevin Waters, School Superintendent Ed Pratt Dannals wrote, "Your contribution of time, talent and investment in the future of education has clearly earned you this special distinction, and it is our pleasure to recognize your efforts."
From Beijing, China, where the team was playing in an invitational game series, team owner Ron Sholes said, "To receive the Commissioner's Business Recognition Award is a great addition to what has been an unforgettable first season of basketball in Jacksonville. When we announced our team, we made a pledge to make community service a main objective. I remember telling the team that we would be winners off the court, too."
"When you think of the 23 wins and zero losses, a Final Four appearance, finishing 3rd in the nation, and an invitation to play in China Ö you think it couldn't get much better. But when you look back at the thousand or so Duval County "Books-4-Baskets" kids that were able to see a Giants game for free, the hour-long autograph lines for every child after the games, and the messages our players delivered when they visited over 60 schools this past season, it puts everything into perspective. One thing is for certain. This is not where it ends. The Giants are off-court winners and plan to win big next year."