GIANTS SEASON 3 KICKS OFF DEC. 8 WITH
CHAMPIONSHIP REMATCH AT V.M.A.
June 7, 2012, Jacksonville, FL, - The 2012 National Champion Jacksonville Giants announced that they will continue their heated rivalry against the South Carolina Warriors during this upcoming season. This rematch of last season's championship matchup takes place at 7 p.m. in Jacksonville's Veterans Memorial Arena on December 8, 2012.
With the Warriors defeating the Giants during both regular season match-ups last year, and then the Giants winning a very close and defensive ABA Championship series in St. Petersburg against the Warriors, this seasonís four-game series promises to be great. Ron Sholes, team owner of the Giants, said "last season's series was probably the best ever in the 12-year history of the ABA. Fans will definitely get to enjoy some great basketball when these two top teams play."
Speaking of fans, the Giants are expecting a full house for the home opener as the Giants look to defend ownership of their home court. The Warriors are the only team to beat the Giants at home in the past two years.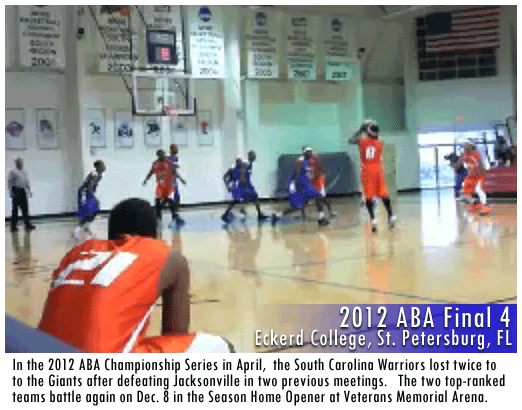 The game will be televised locally, and possibly nationally as part of a television deal being negotiated by the ABA. The Giants are also planning a great show of entertainment before and during the game, a championship ring ceremony and the unveiling of the team's ABA Championship banner before the game.