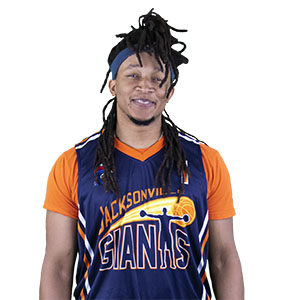 Position

Guard

Height

6'

Current Team

Jacksonville Giants
5th SEASON WITH THE JACKSONVILLE GIANTS
Position: Point Guard
Jersey Number: 1
Height: 6'0″
Weight: 175
Hometown: Memphis, TN
DOB: 2-12-1986
College: Lemoyne Owen – Memphis, TN
Maurice Mickens is the Jacksonville Giants' starting point guard and one of the league's best shot takers as well as shot makers. Hailing from Memphis, Tennessee, Mickens has been playing the game of basketball since the age of seven, working on every part of his game.
Mickens found the inspiration to play basketball after watching former NBA superstar Anfernee "Penny" Hardaway play his high school and college basketball in Memphis. Because of the impact that Hardaway had on Mickens' love for the game, Mickens likes to wear number one.
The 6-foot guard is better known by his teammates and his fans by the nicknames "Reese" and "Mr. Clutch". Mickens played two years at Southwest Tennessee Community College before earning a roster spot at LeMoyne Owen College in Memphis.
In his junior season with LeMoyne, he was second on the team in scoring and led the team in steals and assists. He would help the team in their upset victory in the 2011 conference championship game.
Mickens' would stay in Memphis where he would begin playing his professional career for the American Basketball Association's Bluff City Reign. He would lead the team to the ABA semifinals, lead the team in scoring and have two 50-point performances.
He would be named to the ABA's Eastern Conference All-Star team where he would ultimately be introduced for the Giants franchise. Mickens would take home the game's Most Valuable Player award as well as a contract with the Giants.
After being sidelined in his first year with the team with a season ending knee injury, Mickens would come back the following year and go on an absolute tear even with him not being 100 percent. Mickens would be selected to the All-Star game once again and be named to the ABA All Final Four team.
Mickens credits two members of his family for all his accomplishments. He says that his son, Jaylen, is the best thing that has ever happened to him and extra motivation to play his best. In addition, credits his mother for, "making it all possible."

Fun Fact:
Maurice's life goals include being the best father he can be to his only son Jaylen Mickens.
Noteworthy Stats:
As a college senior, Maurice Mickens was named to the 1st team All Southern Intercollegiate Athletic Conference in 2009. His poised play under pressure situations in crunch time earned him the nickname "Mr. Clutch". Maurice Mickens, aka "Reese", is a 3- Time ABA Champion, Back to Back 1st Team All ABA, and this year's reining Finals and League MVP. One of the best playmakers in the league, Reese comes off 26.7 points while dishing out nearly 10 assists per game season. He is a maestro with the pick and roll offense and he thrives with the ball in his hands. Look for Maurice to lead the charge as the defending champions look to make another run for a championship to bring the city another national championship title.

ABA
| Season | Team | MIN | FGM | FGA | FTM | FTA | 3PM | 3PA | OFF REB | DEF REB | AST | PF | TF | STL | TO | BLK | PTS |
| --- | --- | --- | --- | --- | --- | --- | --- | --- | --- | --- | --- | --- | --- | --- | --- | --- | --- |
| 2015-2016 | Jacksonville Giants | 437 | 83 | 158 | 33 | 40 | 34 | 68 | 10 | 30 | 46 | 38 | 0 | 15 | 25 | 2 | 254 |