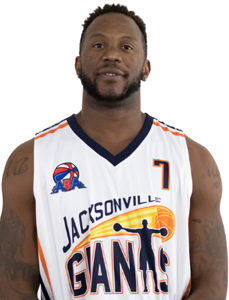 Position

Center

Height

6'7"

Current Team

Jacksonville Giants
Position: Center
Number: 7
Current Team; JAX
Date of birth: 5/1/1987
Height: 6'7
Hometown: Atlanta, GA
Hobbies: Rashad enjoys spending time with family
Rashad "Shad" Faust is an Atlanta, Georgia native who is no stranger to the American Basketball Association. While in the ABA, Faust has been an All-Star as well as a champion. Faust spent some time with the ABA's Atlanta Wildcats and the South Florida Gold before suiting up for the Giants. Faust has also played with the Harlem Globetrotters in 2016-2017.
The Giants forward's favorite player is Houston Rockets' forward Carmelo Anthony and has a love for the criminal justice field. Faust hopes to be able to own his own probation office one day or coach his very own high school or AAU basketball team.
When Faust is not on the floor, he loves to relax at the beach and spend time with his family. He says that his mother is the backbone of his family and, "Without her there is no me.
Noteworthy Stats:
Lorenzo "Shad" Faust is a 6'7 power forward from Atlanta, Georgia. Faust has been playing basketball for seven years. Faust previously played in New York. Three words people use to describe him are fun, outgoing and lovable. Faust's biggest role model is his dad. His favorite NBA time is the New York Knicks. His biggest goals in life are to play for the NBA, get married and start a family. If Faust didn't play basketball he would want to be a probation officer. When he is not playing basketball he enjoys being with his family and friends. Something most people don't know about Faust is he loves hats and he can sing. The Giants are thrilled to have Faust on their team this season!