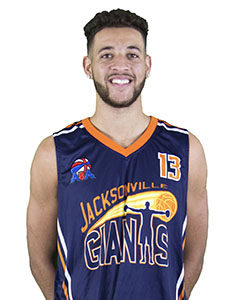 Position

Guard, Forward

Height

6'6"

Current Team

Jacksonville Giants
1st SEASON WITH THE JACKSONVILLE GIANTS
Position: Guard/Forward
Jersey Number:
Height: 6'6″
Weight: 210
Hometown: Jacksonville, FL
DOB: 03/25/1997
College: Charleston Southern University
Hobbies: Travis can be seen as a down to earth, outgoing person. He enjoys spending his time fishing, as well as making his family and friends laugh.
BIO:
In his 2017-18 junior season Travis made an immediate impact for the Charleston Southern Bucs, playing in 30 games and starting 16. Travis Ranked third on the team in scoring (10.2 PPG), and tied for second in rebounding (4.1 RPG). Travis Ranked 12th in the Big South in made three-pointers, (2.0 per game), and 14th in steals (1.2 SPG). Travis shot 39 percent from three-point range. Travis scored in double figures 17 times, highlighted by a career-high 23pts in a win over Liberty University. Travis hit three or more threes on nine occasions, scored in double figures in each of the season's first five games and helped lead the Bucs to an overtime road win at Illinois State on Nov. 25, by posting eight points and a career-high 11 rebounds. Travis played one of his best games of the season at eventual Elite Eight participant Florida State on Dec. 18, finishing just shy of a double-double with 17 points and nine rebounds. Lastly Travis played a vital role in wins over High Point (Feb. 1), Liberty (Feb. 7) and Longwood (Feb. 15), averaging 18.3 PPG over those three outings to help CSU"s late-season push.
Prior to CSU, Travis Starred at Florida State College at Jacksonville for two years, excelling as an elite three-point shooter. Travis played under Coach Neil Orr and averaged 19.2 points per game and 7.7 rebounds per game as a sophomore. Travis buried 93 three-pointers, (almost 3.5 per game) at a 42 percent shooting percentage. Travis ranked eighth in the region in scoring and rebounding on route to collecting Florida College System Activities Association (FCSAA) All-Region Eight honors.
Fun Fact: Travis McConico finished his career at FSCJ, as FSCJ"s all-time leader in three-point field goals and broke the FSCJ all-time three-point career record with 126..